Brief Khali Wrestler Biography
Ring name(s) - Giant Singh, Khali, The Great Khali
Khali height is - 7 ft 3 in (2.21 m)
Khali weight is - 420 lb (191 kg )
Khali Born on August 27 ,1972 Dhirana ,Himachal Pradesh ,India
Resides in Jalandhar ,Punjab ,India
Trained by APW Boot Camp
WWE Debut October 7 ,2000
Dalip Singh alias The Great Khali was born on August 27, 1972 in Dhirana village, Himachal Pradesh, India. Khali was the third of the eight children of the Rana family. He is an Indian wrestler and an actor and has recently signed to the World Wrestling Entertainment (WWE) wrestling on its RAW brand.
Before starting his journey as a wrestler, Dalip Singh was an officer with the Punjab Police and a great bodybuilder. Khali has also worked for an Indian restaurant in Malibar Hill. Great Khali won the title of Mr. India in 1995 and 1996.
The Great Khali in Photos at his best ( Video may take some time to download )
The Great Khali Personal Life
Dalip Singh alias Khali married Harminder Kaur on February 27, 2002. He is very attached to his village and his aim in life is to support his family and help his entire village in some way or the other. He is a role model to the youngsters of Punjab. He advises them to stay away from drugs and lead a healthy and disciplined life by taking up sports.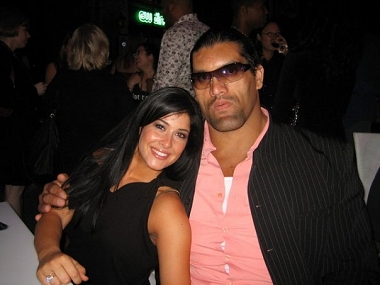 * Image courtesy copyright http://news.bbc.co.uk/2/hi/7384920.stm

Buy 1 Get 1 offer Available, Yoga, Personal Trainer and Many other Fitness and Professional Certifications