Dalip Singh alies The Great Khali became a pro wrestler for All Pro Wrestling when he made his first appearance in October 2000 in the United States of America. He acquired the name of "Giant Singh" because of his height. He teamed with Tony Jones in his first fight and fought against the West Side Playaz 2000.

The Great Khali was signed contract with WWE and on January 2, 2006.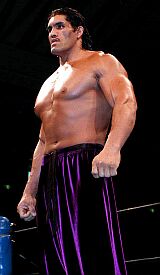 He was assigned to the Deep South Wrestling developmental territory for training. He made his debut on WWE television on April 7, 2006 episode of Smack Down. He fought a match with mark Henry which ended in a no-contest. He also attacked the great Undertaker in the same match.

In the week that followed, he was introduced as "The Great Khali" by Daivari, who claimed that he had a client who would wipe out the Undertaker. Khali made his in-ring debut on April 21, 2006 and defeated Funaki.

Brian Ong, a trainee wrestler from Concord, California offered to receive a flapjack from Khali. A flapjack is a move which throws the rival so that he/she is pushed upward and then falls on his/her front. Singh performed this move with two other wrestlers including one of the trainers to show Brian Ong how it was performed. Brian Ong botched receiving the move. Instead of pushing off Khali's back (the way he was supposed to do), he gripped his shirt. He landed wrong and suffered a severe concussion which proved fatal for him. Brian Ong's family sued the All Pro Wrestling and was awarded damages of over $1.3 million.

Dalip Singh suffered his first defeat at the hands of Hiroyoshi Tenzan in a tag match at the Tokyo Dome in January 2002. He met with another defeat by Manabu Nakanishi in March. Khali suffered his biggest defeat at the hands of Silva in August at Tokyo when he was knocked down by him in a singles match.

Khali was diagnosed with liver enzymes and he could not fight the Undertaker in a match. After he resumed good health, he was challenged by the Undertaker to a Last Man Standing Match at Summer Slam. The Undertaker defeated the great Khali after hitting him with steel steps. He also hit him with several chair-shots and chokeslam which cut open Khali's forehead. This was Singh's first ever WWE defeat.

The Great Khali was due for surgery on both the knees in August and the news came that he would make a comeback along with Daivari to WWE in October.