The Great Khali stands 'tall' at a remarkable height of 7 foot 3 inches and weighs around 420 pounds. The list of Khali's achievements is long and one of them includes walking through the dense forests of India fearlessly of the venomous pythons and wrestling the White Bengal Tiger.

His feats in the wrestling world are no less. He beat the World Champion Rey Mysterio effortlessly in a non-titled match between the both of them. Khali signed a contract to fight with the Undertaker on Judgment Day on May 21; 2006. He hardly faced any difficulty in defeating the WWE legend Undertaker. The same night he intervened in the WWE Cruiserweight Championship #1 Contender's Triple Threat Match. The match was being fought among Super Crazy; Kid Kash and Nunzio. Khali fought all the three men with equal ease.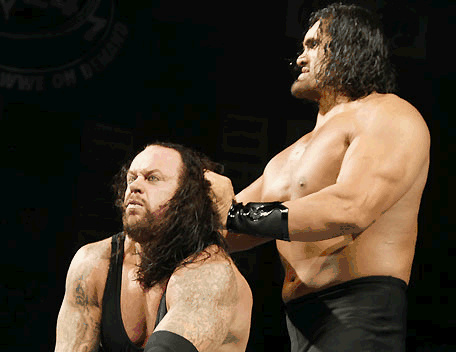 Khali was instrumental in helping The Big Show in defeating the Undertaker with a Double Chokeslam. Khali also challenged the Undertaker to a Punjabi Prison Match which was scheduled to be held at the Great American bash. The Punjabi Prison Match is one of the most barbaric matches fought in the WWE history. The Great Khali and Daivari (the one who introduced Khali to international wrestling) were responsible for initiating such an inhuman way of fighting in world wrestling.



However, Khali was kept away from the match due to elevated liver enzymes and was substituted by the Big Show.

Singh was introduced to the New Japan Pro Wrestling with Giant Silva in August 2001 by Team 2000 leader, Masahiro Chono. Both of them formed the tallest tag team in pro-wrestling history with an average height of 7 ft 2 in and their combined weight of 805lb. They both defeated Yutaka Yoshie, Kenzo Suzuki, Hiroshi Tanahashi and Wataru Inoue in a Handicap Match when they teamed up for their first match together as a team.



This match was held at the Tokyo Dome in October and was labeled "Club 7" by Chono. Silva pinned down Tanahashi and Inoue both at the same time.
Khali intervened in a Falls Count Anywhere, Money in the Bank qualifying match between Kane and King Booker in the February 23, 2007 episode of Smack Down. He rammed Kane through the barricade and that cost Kane the match. This match also started a war between Kane and Khali.




Buy 1 Get 1 offer Available, Yoga, Personal Trainer and Many other Fitness and Professional Certifications